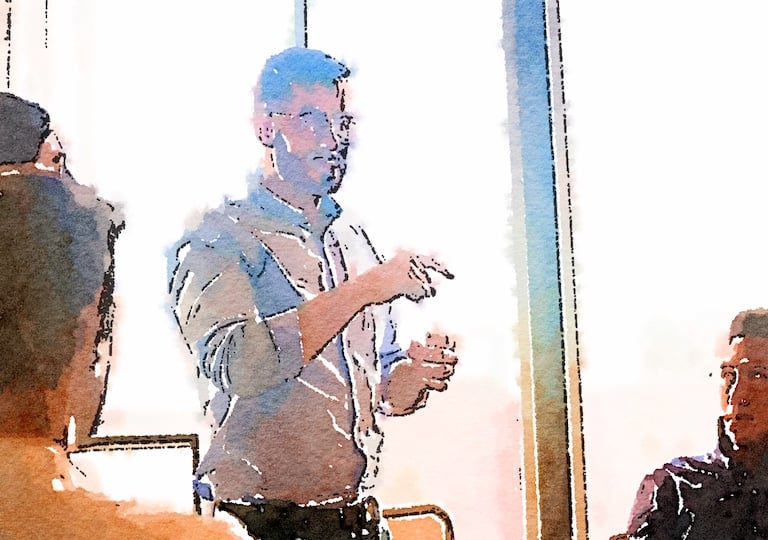 Are you a leader at an innovative company?
Do you have disruptive ideas about your industry?
Do you share these thoughts regularly with your employees, colleagues, board members, and the occasional speaking panel and social media post?
Congratulations! You're an executive.
But you're not a thought leader.
That's because thought leaders don't operate in the shadows.
They're not just expounding their philosophies in PowerPoints or board calls. They don't settle for atta-boys around their company's conference tables, or likes on LinkedIn.
Thought leaders must – by definition – publicly, consistently, widely express their unique ideas.
You're a big fish in a fishbowl, and that's wonderful. But if you want to be a thought leader – someone who's really making waves – you've got to be swimming with sharks in the wild blue ocean.
That said, you may need some help diving in.
I mean, they made a whole movie about rescuing a Blue Tang from various aquariums and getting her into the sea. ("Finding Dory," anyone?)
Thankfully, you don't need the whole team from Pixar.
You just need a ghostwriter.
Thought leadership matters
It's a well-worn term, but thought leadership isn't a cliche. It's a powerful aspiration.
The world needs thought leaders.
They're the innovators who disrupt the status quo. The risk-takers challenging conventional wisdom and influencing new ways of thinking. The renegades changing their companies, industries, communities, or the world.
And they're doing all of this in the bright lights of an arena. Their audience may be small, it might be enormous…but there's an audience.
What attracts that audience is compelling content.
Content is the key driver of business in our digital world. And it's not just your company's blog that needs content. If you want to activate the power of your ideas and distinguish yourself as a thought leader, you've got to be creating and syndicating your own content as well.
Your brilliant thoughts are the first step. Leadership is the next.
Thought leadership ignites when you strategically and regularly launch your ideas out into a universe far beyond your own. The audience you lead is the one you build.
You've got to get those thoughts out of your head, onto the (digital) page, and in front of ever more eyeballs.
How?
Your marketing team probably can't help you
I know many an inspiring exec who wants to nurture her thought leadership. But she's floundering for support.
Visionaries are busy launching or running innovative businesses. They're accomplished, insightful people, long on expertise and short on time.
There simply aren't enough hours in the day for these would-be Ted Talkers to do the labor-intensive work of thought leadership on their own. They need help channeling their expertise into words.
Sure, their companies may have a marketing team. But most marketing functions are designed to support businesses, not thought leaders.
Marketing folks have limited bandwidth to build out the personal thought leadership of the C-suite. Even if this work ultimately benefits the company overall, it's still probably not their j-o-b.
Publicists, too, are of limited help in this area. Publicists may be able to get you quoted in the Wall Street Journal or Forbes (if they're lucky, and typically after investing a lot of time, effort, and your money.) But that's fleeting publicity, not thought leadership.
If you want to upend business as usual, stand out, and effect change, you need to control the narrative of your ideas.
That takes discipline, strategy, and work.
More often than not, thought leaders are left with just their thoughts, not leadership. The full potential of their ideas sadly withers on the vine, like Russian River grapes that never become an exquisite Pinot Noir.
That's why thought leaders need ghostwriters.
Boo! Ghostwriters aren't scary
Ghostwriters have a mysterious reputation. (I guess most ghosts do.)
They just help famous people write books, right? A movie star's memoir, a corporate titan's success manual. Anyone who has a ghostwriter surely has a book contract with a fancy publisher.
And don't ghostwriters also pen speeches to help politicians sound brilliant?
Whoever they are and whatever they do, ghostwriters surely aren't just there to help professionals cultivate a role as thought leaders.
But, oh yes – they can be.
Ghostwriters are the perfect resource for exactly that purpose.
You don't need to be working on a book to warrant a ghostwriter's support. You can just be cooking up blogs for a collaboration to click.
With thought leadership, you're promoting your point of view. You need to sell your perspective, not your services.
An experienced ghostwriter will harness your ideas, research the past and current conversations in your industry to identify gaps, and work with you to develop attention-getting hooks.
An expert command of the issues is mandatory. Plus a detailed awareness of how all of the different belief systems on a given topic support or contradict one another. Not to mention, a mastery of the nuances that make an airtight case for your vision.
I love ghostwriting for thought leaders. Stepping into their mindsets, looking at the world through their innovative eyes, examining the flora and fauna of their business landscapes – it's always a fascinating adventure.
When I have the privilege of ghostwriting for an enterprising thinker, my overarching goal is to crystallize their wisdom and vision. I consider myself a conduit to guide their ideas into the light.
Tactically, my objective is to sketch vivid word portraits of their perspectives. That starts by working closely with clients to excavate their brilliant brains and the ecosystems of their industries. Then we develop a writing voice that brings my clients' unique personalities and deeply held beliefs to life.
Together, we perfect the art of persuasion, an endeavor towards changing hearts, minds, and the world around us.
Once the collaboration has developed a rhythm of understanding and trust, the work goes quickly. My clients are busy – it's why they need me. My job is to rapidly absorb their direction and then, with minimal back and forth, produce outstanding content that reflects their musings.
Ghostwriting for thought leaders facilitates all kinds of transformations. The change you seek may be globally profound or industry specific. But effecting any kind of positive change can be personally gratifying – and professionally rewarding – for everyone involved.
Including for me, the ghostwriter.
Start small-ish, then syndicate
Where to begin? Can you thought-lead by tweet?
No. Sorry. Commenting from the social media sidelines is just dipping your big toe in the pool. Hard to make a splash on its own.
I typically suggest starting with blogs for your own website and/or platforms like LinkedIn Publishing, Medium, and sector-specific forums. Break in your writing voice and get into your groove.
Over time, you can go beyond articles to develop a suite of other content magic: videos, webinars, eBooks, print books, podcasts, and anything else that elevates your voice and influence.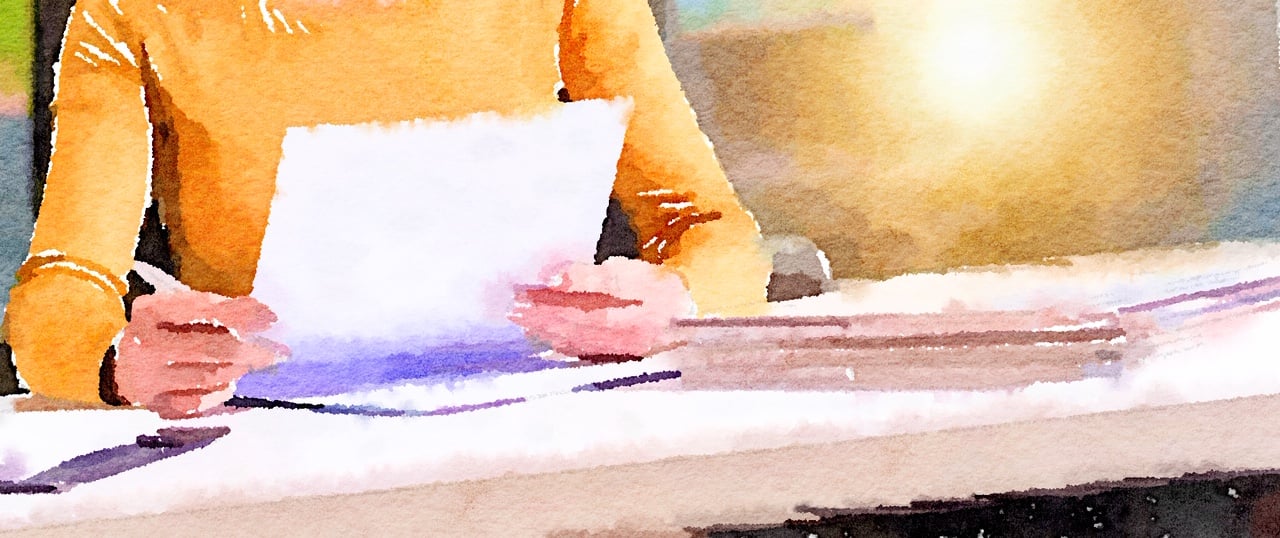 Whatever the content type, you'll soon need to start swimming with those sharks.
You can have the greatest think pieces in the world, but if you're only talking to the people who know you, you're playing it too safe. Preaching to the choir isn't thought leadership.
You need to get beyond your website and social channels (although both are still vital) and pursue guest article opportunities for high-authority sites respected by your ideal audience.
Syndicating your content takes you out of your comfort zone.
This is where a good ghostwriter will put on her ghost-strategy hat. It's not just about creating the content. It's about getting your content (and you) noticed.
Syndicating your articles with widely read publications translates into higher visibility and authority. A strategic ghostwriter can help you identify strong targets for contributing writer spots and then pitch article ideas to editors.
With strong enough content, you'll start landing guest posts and growing your audience.
Don't get me wrong: none of this is easy. And it doesn't happen overnight.
Think of content syndication as the new PR. The only difference is that instead of pitching your company to reporters and hoping they call you for a quote, we're now pitching your content ideas directly to editors.
The process for your dream contributor spot may still take time. But along the way, the path of content syndication is far more promising than the sadly decaying, potholed road of traditional PR today.
No matter what, you'll always have more control over how you frame your own ideas than when you hand them over to a reporter. That is, when you even have the chance to speak with the rarified employed journalist today, amidst our unfortunately downsized traditional media landscape.
With content creation, you always hold the cards. No media gatekeeper can stop you from getting your ideas out into the world now.
Thought leadership requires an investment
Thought leaders gain strength through the consistent, convincing expression of their worldview. It takes sustained focus.
But thought leaders often undervalue the goal of championing their own ideas. They're so consumed by the business of their business that they overlook the significance of their own voice.
Thought leadership isn't an ego trip. It's about raising the profile of your ideas to drive change in the world around you. With some dedication, thought leaders can break up entrenched mindsets and create breakthroughs for their companies and causes.
The potential of your thought leadership is unlimited. But to see the payoff, you need to make the investment.
That investment can take the shape of a considerable amount of time to nourish your thought leadership on your own. Or you can invest in a ghostwriter who can help you quickly take your thought leadership from concept to reality.
The choice is yours. But if you possess the potential for thought leadership, do yourself – and potentially the world – a favor:
Get out of that fishbowl. It's time to explore the sea.
Fins up!

Read more: